Retail research
Surveys and interviews with shoppers and stakeholders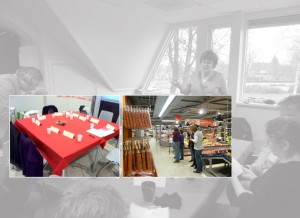 4Growth's Consumer ShopSafari
Shoppers estimate a Retail location, guided by the 4Growth insights researches. The shoppers report strengths and weaknesses by pen and camara. These participants are of course also professional selected, based on 4Growth's criteria. 4Growth uses the canteen of the shop for the groupdiscussions. With this approach shopper insights research is available for everyone.
4Growth's B2B or B2C ShopSafari
We drive with suppliers or Retail professionals through the Netherland, Germany and Belgium. We'll make questionairs, the participants take pictures and write down their observations. Afterwards we'll discuss their experiences on location. The client will recieve all the pictures afterwards. These pictures are inspiration material for Retail format or supplier product development.
4Growth's Retail co-creation
Research and consultancy with Retail co-creation is a smart start for store innovations. Retail succes begins with understanding the (potential and latent) customers need. We match the ideal and current situation, and the result is insights about promising innovations and quick wins for store departments or categories. As retailers are used too, our rapports are pragmatic without loosing the vision.
Retail research shopperpanel
Customerpanels are very useful for increasing the relationship between Retail outlets and her customers. Panelmembers regularly join several online activities, for example: customer loyalty researches, pre-testing, producttesting, chats, cocreations, community's and quick polls. Some customerpanels are integrated with social media. The strength of customerpanels is the feedback of the panelresults to the panelmembers and on the storefloor. The customerpanel market is wellknown by 4Growth. We support tenders and assist implementing operational tailor made solutions.
Customer research Store Performance Ruler
StorePerformanceRuler is a representative research tool for Retail outlets en Retail organizations. At every shop 100 customers are asked to give their opinion about the shop and its main local competitors. From experience we know that this research gives al lot of input for: local marketingplans, nationale competitors analyses en positionering (also for the smaller Retail chains), internal and external benchmarking. The results can also be used for a internal shopcompetition.
Publications by Inge Oeseburg (in dutch):
Corporate fashion for library employees. Eco coton in the library, June 2011;
The five senses supermarket formula. Marketing Online|MarketingMax, February 2011;
Social Media Websites. Marketing Online|MarketingMax, September 2010;
Retail narrowcasting: Pest Spirit or Pleasure? Marketing Online|MarketingMax, October 2009;
The food mannequin, MarketingMax, January 2009;
Market-oriented development of health care institutions, ZM magazine, June 1996.
Do you want more information? Mail to info@4Growth.nl
drs. Inge Oeseburg SMP
adviseur en interim manager
06 30 46 77 20
info@4growth.nl